Best Home Espresso Machines – Our Top Picks for 2017
|
Looking for the Best Home Espresso Makers? Here are our top picks with detailed reviews, comparison charts and buying guides to help you purchase the perfect espresso machine for your needs.
Coffee is the energy fuel for many, and for the true coffee lovers it narrows down to texture, aroma, and taste. Buying a home espresso machine not only gives you the convenience to make delicious coffee from your counter-top but it can also save you a fortune if you're a regular visitor to the nearest coffee shop.
Whether you're looking for a convenience-centered home espresso machine or you're a real coffee aficionado and want to improve your barista skills, we have the best recommendations for all your specific needs.
All of these recommendations are geared for different budgets so that you can choose one according to your preference.
Best Espresso Machines for True Coffee Aficionados 
Breville BES870BSXL – A beast of machine that's not built for the faint of heart. It features a sturdy built, great brewing and consistent frothing. Adding to that, it has an inbuilt grinder and offers a range of controls to the user. Great Value!
Gaggia Classic – A perfect semi-automatic for the first time buyer. A rich brewing and convenient steaming experience makes it an excellent choice for coffee house drinks.
Best Home Espresso Machines
1. Breville BES870BSXL
2. DeLonghi ESAM3500.N Magnifica
3. Gaggia Brera
4. Gaggia 14101 Classic
5. Nespresso Espresso Makers
We like to call the Breville BES870BSXL a "complete package" in semi-automatic home espresso machines category. Whether you are a hardcore coffee lover and want to learn the skills of a barista or maybe you're experienced and want something convenient and powerful at your home, this is easily the best value espresso machines.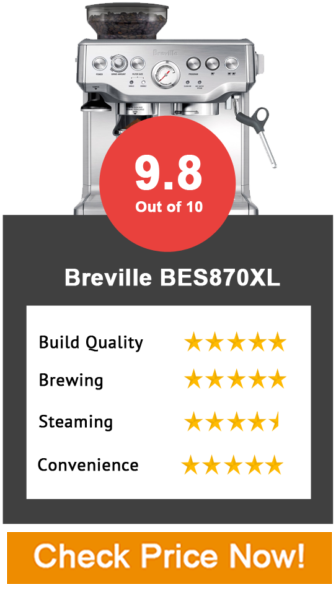 Pros
Has an integrated burr grinder, that grinds fresh coffee beans in under 30 seconds (And saves you the money to a buy a separate grinder and some much-needed countertop space)
You can adjust almost everything, from the grind size to the volume and even the brew temperature, giving you true barista like control. (However, with default settings even a beginner can pull delicious espresso shots without much hassle).
With Powerful thermal coil heating system, you get optimal brew pressure (and with purge function, temperature is automatically adjusted between brewing and steaming)
Comes with a stainless steel portafilter with both pressurized and non-pressurized baskets (Pressurized baskets make it easier for beginners to pull out quality shots of espressos, irrespective of the grind size)
The steaming wand has a learning curve, but compared to the wands used in super automatic, the froth produced has a dense microfoam)
With a rugged aluminum and zinc casing, this one is built to last. (And with the stainless steel finish it is fair to say the Barista Express is Tom Cruise among coffee machines)
Cons 
The build quality of the drip tray is not that sturdy making it is prone to scratches and with lesser volume inside the drip tray, you have to clean it every second day.
Also if you are not using a filter in the reservoir, you have to descale often. (The process is pretty simple though)
The cup warmer at the top uses passive heat from the thermal coil and doesn't get hot.
For complete barista-like control, you would have to spend time learning different features and have to master skills, like steaming, to get the best quality drink from this machine. (On the flipside, with this is the machine you can grow 2as a barista)
Burr Grinder
On top of the machine, you have the conical burr grinder. You pop in coffee beans whenever you want to brew, and it will pour freshly grounded coffee right into your portafilter. You can adjust the grind size with the help of knob on the left. But the grind will be in "espresso range".
For example, even the coarse grind, isn't coarse in the traditional sense, and overall it is designed for espresso. Grind size adjustment offers utility to those who like to experiment and see what grind sizes tastes best for different drinks. For beginners who want to pull out delicious shots of espresso, keep the grind size fine.
Using the knob on the top you can pull out the grinder for cleaning, and keep in mind that sometimes a bean gets stuck somewhere in the middle, so you have to take that out manually.
Apart from these, we feel that grinder is somewhat small and could have been a little bigger to accommodate more beans. (However, it is an improvement from the prior model (BES860XL).
(If you are looking for a stand-alone coffee grinder, check out some great reviews here)
Brewing and Control
The Barista Express comes with a stainless steel portafilter and with four additional baskets. You get single and double shot baskets for both pressurized and non-pressurized filters. Usually, with other manufacturers, you have to buy additional baskets separately. (So kudos to Breville, well done).
Pressurized baskets make it easier to pull a quality espresso, even if the ground coffee has an uneven grind. This is best suited for beginners. Also, you can use pressurized baskets for using your favorite ground coffee or if you wish to have decaf at night. Non-pressurized baskets, on the contrary, require some skill, but they are better for producing espresso with rich crema.
Coming back to Breville, you can control the amount of coffee grounds that are dropped into the portafilter. Beginners can use the default volume for a single or double shot, while pros can use custom volume, depending upon their taste.
You get a tamper too with the machine, which can be attached to the machine itself. The tamper is of good construction, and even though we don't consider it a major factor in the quality of espresso, but still you can learn a few tricks to do it "just right."
Once, you are done with this simply lock the portafilter to the group head, choose the volume and bam, you have delicious espresso, in under a minute. You can reprogram the volume, according to your preference too.
Breville BES870BSXL uses a Thermo coil heating systems and 15 bar pump, so the water temperature is ideal and consistent. It also allows you to increment temperature by two degrees. (This is only recommended for professionals or if you want to improve your skill as a barista). It also uses pre-infusing technology which soaks the grounds before extraction.
Overall, the brewing technology of the Breville BES870BSXL surely packs a punch.
Steaming
The Breville Barista Express uses a standard steaming wand that you find in commercial espresso machines. This makes it difficult to beginners to steam milk. Other low-end models use Pannarello wands that make it easier to steam and stretch milk.
Having said that, standard wands produce way better froth than pannarello wands, and with practice, you will be able to make rich froth for cappuccinos and stretched milk for lattes.
Plus, the wand is somewhat slower (while heating milk) compared to ones you find in commercial machines.  This is a blessing in disguise for beginners, and it gives them more time to work with milk, and with practice you will be making delicious coffee house drinks. (Better than Starbucks, period! 😉
There is also a separate spout for dispensing hot water, which can be used while making Americano or Tea.
Cleaning
Breville BES870BSXL is somewhat of a mixed bag when it comes to cleaning and maintenance. The best feature is clearly the three valve solenoid. When brewing is completed, and the shot of espresso is poured into the cup, it pulls all the extra moisture and water out of the portafilter and directly dispenses it into the drip tray. Thanks to this, you can drop use the coffee puck, and there is no residue in the portafilter (Damn Convenient!)
Apart from this drip tray also collects the additional splashes. But the volume in the drip is quite small, so if you drink coffee twice a day, you will have to clean it frequently.
Cleaning the burr grinder, however, is not that complicated. A small vacuum is best suited for cleaning the internals, but a small cleaning brush will also work.
If you don't want to descale often, we highly recommend you to use a filter. Breville does provide you with a charcoal filter when you buy the machine, but you will need a replacement in few weeks. The machine has an indicator in the front; that blinks when there is a need to descale the machine.
Drawbacks
The Barista Express stands out in all departments, but there are a few nitpicks, here and there. First, the drip tray and the steam wand are prone to scratches. You should regularly wipe them off with a wet cloth.
Second, due to a glossy finish, this model is a fingerprint magnet. Again regularly wipe it with a kitchen towel.
Finally, the cup warmer relies on passive heat from the heating element and your cups just don't get that hot (At least to our liking).
A small workaround for this is that you can dispense hot water in the cup before you brew your espresso. (A hot cup ensures that crema layer on top stays intact)
Freshpresso Rating
At the price point, Breville is surely not for everyone. But if you love coffee (and by coffee we mean, the energy elixir) and want to master barista skills, so you don't have to spend a fortune in coffee shops, then the Barista Express is the best bet.
It is the machine you can grow with (transitioning from beginner to expert), with the integrated grinder you get incredible value and most Importantly the coffee is freaking delicious.
But, if budget is an issue, you can go for Gaggia Classic, but you would have to compromise on control and certain quality features.
We like to call the 3500 Magnifica "the Big Daddy" of Super Automatic Coffee Machines. It can give you drinks like Cappuccino and Lattes, at the touch of a button.
If you are chasing quality, taste and complete convenience (and budget is not an issue), this coffee machine by Delonghi will be our top recommendation.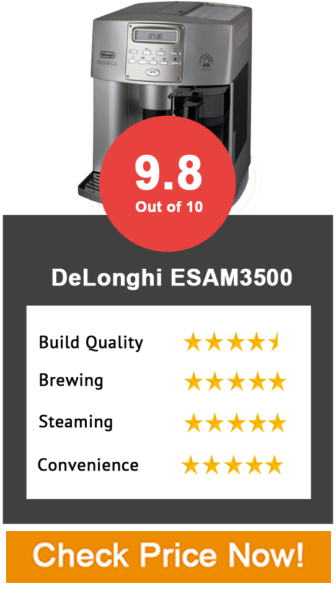 Pros
It Features a conical burr grinder, which grinds fresh coffee beans for each shot. It comparatively makes less noise compared to other super automatic machines. (You can also use pre-ground coffee)
The brewing operation is super easy too. Just select the size (5 sizes available) and the coffee strength. Then hit brew for a shot of espresso or select cappuccino or latte for a milk based drink. (Total Childs Play)
It is powered by two separate boilers for brewing and steaming, so there is no wait between brewing espresso and steaming milk. (It also has a separate heating element, to warm your cups)
The Magnifica comes with a Carafe for steaming or frothing milk, and it can be attached to the espresso machine, for one-touch operation. (Separate Lids for frothing and steaming).
You can program the machine, to prepare a coffee at a set time, so when you wake up, you can have a shot of espresso, at your disposal.
Finally, with the front facing reservoir, the 3500 Magnifica, is a relatively compact machine, suitable for smaller kitchens too.
Cons
The plastic housing is a let down in such a premium machine, and parts like drip tray will need replacement after regular use.
It is on the expensive side, but in the long run, it can save you a ton of money, as it delivers café like coffee right at your countertop. (Perhaps even better than Starbucks)
Grinding 
The DeLonghi ESAM3500.N Magnifica uses a conical burr grinder where you can add roasted beans. The volume is about 8 oz. and it holds enough beans for 8-10 cups. You can adjust the grind size by rotating the knob, however, for the best espresso, we would recommend you to keep it at factory setting.
There is also a separate compartment for using ground coffee.
It comes with a scoop which pours the exact quantity of coffee you need for a single shot of espresso. This compartment can come in useful if you wish to drink flavored or decaffeinated drinks, particularly in the evening.
Brewing
After the grinding is done, the brewing process starts. The Magnifica makes use of two separate boilers for brewing and steaming. This ensures that there is no lag between brewing and steaming.
Secondly, with the power of two boilers, it can brew multiple cups of coffee without much delay. So if you have a large family or friends coming over, the Magnifica will deliver.
DeLonghi uses a patented and compact brew group, which pulls out delicious espresso with a rich crema.
You can choose from five different strength settings from extra mild to extra strong. This adds to the versatility of the machine, and you can even experiment till you find the strength that tastes 'just perfect' for you.
You can also choose from three different sizes from small to large. Additionally, you can reprogram this by pressing the button for 8 seconds. So if your wife (or husband) likes to drink 'somewhere in between', this feature can come in handy.
The ESAM3500 also features an active heating element for warming the cups (at the top). In this regard, this machine leads every other machine in our list (Owing to the heat generated).
A warmer cup holds the cream of the espresso and also cappuccino tastes better in a warm cup. And yes, cup warmer is sufficiently large (in surface area) and has space for three mugs.
Finally, by pressing the Menu button you can set the clock, and this will automatically brew a cup of coffee for you, at a set time.
We found this feature innovative, and it is like having a skilled barista at your countertop, that brews fresh coffee when you wake up.
Steaming and Frothing
The ESAM3500 Magnifica comes with a separate milk carafe that can be used to steam or froth milk.
You can directly attach it to the machine, and if you select cappuccino or latte if will directly pour milk to the cup, along with the espresso. (And yes all this happens automatically, you simply have to press a button).
You can store the carafe in the refrigerator, and cold milk is recommended for cappuccinos and lattes.
You get two separate lids for cappuccinos and lattes, and that is another neat feature, as for cappuccino you need more froth while lattes require more steamed milk.
This also sets the Magnifica apart from other Super Automatic Coffee Machines, which work better for either one of the two drinks.
You get an additional wand which can be attached in place of the carafe, and can be used to dispense hot water for tea.
Both the Espresso machine and the carafe can be cleaned easily. They both have self-cleaning features which rinse out additional milk or coffee from the machine before they start brewing again. You can also easily descale the machine with a descaling solution.
Drawbacks
The obvious con with the machine is the housing. It is made of plastic and for such a premium appliance it is disappointing.
Having said that, the internals of the machine like boiler and the heating elements are made of stainless steel, and they would last for years, but plastic components like the drip tray may require replacement.
Secondly, this machine is on the expensive side and is clearly not for everyone. Quality coffee and one-touch operation come at a cost.
Freshpresso Rating
The machine scores high in almost all accounts. It is powered by high-end dual boilers, uses a silent (and integrated) grinder, brews rich espresso and automatically steams milk through a carafe. It can be programmed according to your preference and requires minimal effort from the user.
The Magnifica can be compared to a skilled Barista, who is working for you at your countertop and can make an array of drinks according to your taste and preference.
However, if you can give compromise on auto frothing, you can go for an option like Gaggia Anima or Gaggia Brera, which come in a lot cheaper, but deliver almost the same quality of espresso.
The Gaggia Brera is a compact super automatic bean to cup espresso machine, which consistently pours out delicious coffee and with its adjustment features, it works as your very own barista (and at a budget price too.)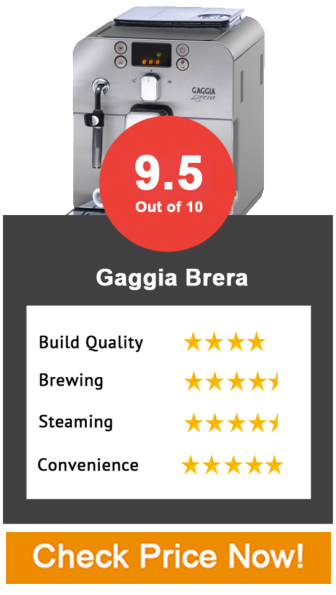 Pros 
The compact size makes it ideal for use in small kitchens, with low countertop space. The water reservoir pulls out from the front, so you don't have to move the machine, every time it needs a refill.
The Brera uses the same brewing system found in high-end Gaggia models, and the espresso brewed is delicious and also stays consistent even after regular use.
With the inbuilt grinder, the whole brewing process is convenient, and the whole process from bean to cup takes less than a minute. (You can also use pre-ground coffee).
With the Brera you can adjust the grind size and the brew strength, giving the user greater control, over the style of coffee. (You can also adjust the volume of espresso to be brewed)
With the Pannarello wand, even a beginner can steam milk. (And the cooling off period between brewing and steaming is relatively low)
Cons
The 40oz, Reservoir is somewhat small. It will work fine for a family of two or three, but if you have guests coming over, it will require multiple refills.
While using ground coffee, the espresso tastes somewhat bitter. (It also varies according to type of ground coffee you use)
Intelligent Design
The Brera is designed keeping a small household in mind. With the compact size, it can easily sit on your countertop even if you have multiple appliances. If you have cabinets above your countertop, the smaller height of just 11.5 inches, makes the Brera super convenient for storage.
The reservoir and the 'coffee puck container' pull out from the front, so you don't have to move the machine if you need to refill or clean. It also saves the machine from unnecessary scratches and wear & tear.
On the top, you find a plastic cup warmer, which uses heat from the boiler to warm up you cups. Space is enough for two average sized mugs or three small cups.
The Brera uses a mix of plastic and metal. The front is made of stainless steel, but the remainder of the housing is made of plastic. At the price point, the use of plastic is a tad disappointing, but the outer housing has no impact on the brewing, and if you keep the machine clean, it will work flawlessly for years.
Brewing Control and Usage
Convenience is at the forefront of the Gaggia Brera. To start, you simply have to put coffee beans in an air-tight container on the top. With the coffee beans, you can store in the container; you can easily get you 8-10 cups of espresso. (Even more, if you drink smaller volume of coffee).
With the inbuilt burr grinder, you can vary the grind size (using the knob) from a fine which is recommended for espresso to slightly coarse recommended for regular coffee. The grind size will come into play if you are willing to experiment with coffee or making a cold beverage, other than that we recommend you to keep the knob at 'fine grind' for regular use.
Coming, to brewing, the Brera uses pre-infusion which soaks the coffee before extraction. This is recommended, and the technique is used by experienced Baristas for a better espresso. However, in the Brera, the entire process is automated.
You can choose the brew strength, by pressing the button, below the power button. One bean means light while three beans mean a stronger coffee. (A stronger coffee will also grind more coffee beans).
Finally, you can choose the brew volume by using the two programmable buttons on the left. You can set the volume by pressing the button right from the start of the brewing process, and release it when the quantity of espresso is sufficient. It will remember this for future, and for subsequent cycles, you simply have to press the button, and it will brew the same quantity.
This setting is quite useful as you can program two different buttons for two different quantities.  And secondly, you can always alter this by again pressing the button for the whole process.
And yes, you can use ground coffee by adding it through the bypass doser.
Apart from the first two cycles, the whole brewing process takes less than a minute (from bean to cup), for those of you looking for convenience and good coffee, the Brera is a highly recommended.
Frothing Milk-Based Drinks and Cleaning
Frothing and steaming milk on this is manual, but with the Pannarello wand, it doesn't take much expertise.
We would recommend using cold milk and a stainless steel container for steaming. Simply place the container below the wand, and turn the knob on the center to the left. The froth rises fairly quickly, and if you want to increase the temperature without increasing the volume, raise the container till the milk covers that tiny hole on the wand.
Having said all this, you cannot compare this to some high-end semi-automatic espresso machines, but for home users with little experience, the wand on the Brera gets the Job done.
You can also use the wand to pour out hot water for Americano or Tea.
Talking about cleaning, you clean parts like the wand, the reservoir, and the drip tray, by running them through water under the sink. Descaling however takes time, and we recommend using the Gaggia Descaling Solution for the same. You can use filters in the reservoir to delay descaling. The machine gives you a notification on the screen when it is time to descale or refill the reservoir.
Drawbacks
The First gripe with the machine is the low volume of the reservoir. It is only 40 oz. And after 10 cups or so you would have to refill the same. For regular use this shouldn't be much of a hassle, but if you have friends coming over you might have to refill twice.
Secondly, even though you can use pre-ground coffee with the Brera, the shot of espresso tastes comparatively bitter. You can use some high-end coffee to reduce the bitterness, but still, it doesn't taste as good as when you ground fresh beans.
Freshpresso Rating
The Gaggia Brera has many things going right. It conveniently brews delicious coffee, requires minimal effort from the user and cleaning is also not a big hassle. We would recommend this for those of you looking for a delicious cup of coffee that you can brew on your countertop without much effort or expertise. And the Brera does this consistently!
Gaggia Classic has been a trusted name in the home espresso industry for years. It is a recommended budget option in the semi-automatic category. Here is everything you need to know about this.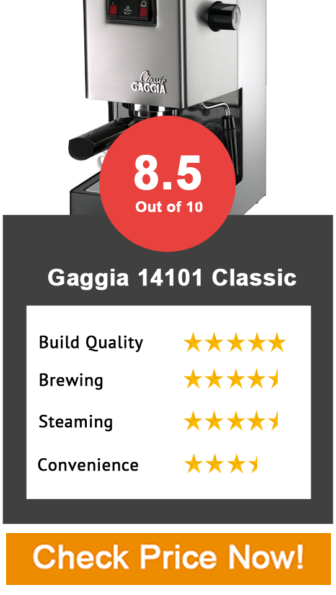 Pros
It is a built like a tank and easily lasts for years. (Some customers have used the Classic for over a decade)
Its convenient and hassle free operation makes it suitable for beginners.
Capable of producing rich espresso shots consistently. (By far the best at the price segment).
High on utility as you can use ESE pods and ground coffee.
With the Pannarello Wand, steaming milk doesn't require expert skills. (The quality of steamed or frothed milk is also surprisingly good)
Cons
It works best with fresh ground coffee, so you have to invest in a separate grinder.
Pretty restrictive as users cannot change the temperature or volume of espresso extracted.
Brewing and Operation
Gaggia Classic is a no BS coffee machine. Power on the machine (and let it heat), load coffee grounds in the portafilter, attach it to the group head and hit the brew button.
It takes about a minute for boilers to get heated up and another 30 seconds to pull out a shot of espresso.
Coming to the portafilter, it made of solid brass and compliments the sturdy build quality of the entire machine. You get single & double shot, pressurized and non-pressurized baskets.
Pressurized baskets give you the convenience of using ground coffee as well as ESE pods. But if you want that delicious espresso taste, then it is highly recommended to grind fresh beans.
If you don't have one and want something that works best with this particular model, the Gaggia MDF is recommended. It is a heavy duty grinder, you can adjust the grind size easily, and this also lasts for generations.
But if you need a budget option, then Cuisinart DBM-8, would be our top recommendation.
It is powered by a beast of a boiler that generates 17½ bars of pressure, which is more than enough for a great espresso.
Finally, it features a large 72 oz. Removable water reservoir. It is recommended to use a filter for minimal scaling of the boiler.
Steaming 
To steam, you get the pannarello wand which makes the process easier. There is a lag time between steaming and brewing espressos, but this is common with every single boiler espresso machines.
Pannnarello makes it easier for even beginners with no skill to froth milk, as there is no special technique required. But compared some to other entry-level espresso machines, the froth generated by the Gaggia 14101, is fairly rich and consistent.
Overall, if you love cappuccinos or lattes, this machine performs well in all accounts. Simple use, rich espresso and consistent froth. (Perfect for beginners)
Drawbacks
There is an obvious con with the Gaggia Classic, and that is its restrictive nature or lack of flexibility. You control the espresso shot but other than that you don't have many options. You cannot change the temperature which a lot of baristas want.
Secondly, there is no option to have a custom volume for the espresso. If you load a single shot basket in the portafilter, you get about 1 oz. of espresso, and with a double shot basket, you get 2 oz. of espresso. There is no middle-ground, so you have to rely on default settings.
Freshpresso Rating
Gaggia Classic is a great choice for beginners who want to start the espresso journey. If you are a complete newbie you can start with ground coffee, but as you learn some skills, you get better at controlling espresso, and there will be a clear separation between the crema and coffee.
Also, if you are in the market for a long lasting coffee machine, with which you can make café drinks from your countertop, then the Gaggia Classic is perfect mid-budget option.
Best Espresso Machines under $300
While the Gaggia Classic almost makes the cut, the following options are budget options if you are looking for an espresso machine under $300.
5th Pick : Nespresso Espresso Makers
If you want a quality espresso at the budget, nothing comes close to Nespresso Coffee Machines. We look at two coffee makers the Nespresso Inissia and Nespresso Pixie.
Note – The Pixie and Inissia are practically the same machines, with almost the same footprint and same brewing technology. The only difference is in the design and the price. (The review below is common for both the machines, and in the end, we recommend which one of the two you should buy).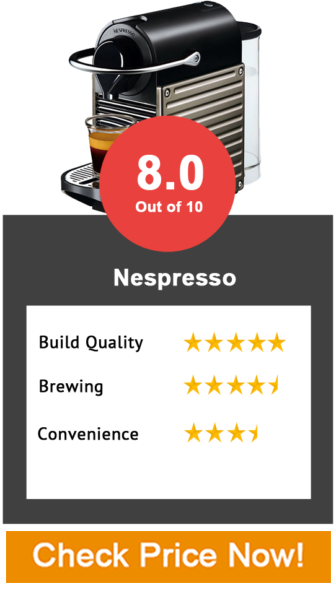 Pros
Operating this is a child's play, and the brewing is super fast. (Perfect for those who are always in the hurry and the need to cuppa coffee to turn on their system 😉
A delicious and strong espresso with a rich crema.
Takes about a minute to brew a cup of espresso.
Since it uses capsules for ground coffee, you can choose from a range of flavors, thus increase the versatility of the coffee machine.
Very little maintenance and cleaning takes less than 180 seconds.
Cons
There is no wand for frothing milk (so you can't make milk based drinks).
The water reservoir is on the smaller side, so after 5-6 Lungos (double shot espresso) you would have to refill.
The regular cost of Coffee capsules (or pods). You can, however, save if you buy in bulk.
Traditional Design – Nespresso Pixie
Modern Design – Nespresso Inissia
Operation and Brewing
Nespresso Espresso Makers are the easiest to operate on our list. You just have to insert the capsule into the brew head and tap the brew button. There are two sizes, Espresso and Lungo, which is basically a single or a double shot.
It takes about 15 seconds for the machine to heat up and you have a beautiful shot of espresso within 45 seconds. (Lungo takes longer than an espresso shot because more water is pumped).
Now since Nespresso machines use pre-ground capsules you can choose from an array of flavors' and blends. This makes this Nespresso Coffee Makers an ideal choice for those of you who like to experiment with their coffee.
Both the Pixie and Inissia, use advanced technology where the grounds are presoaked with water, and then 19 bars of pressure is applied to extract coffee. This leads to a delicious cup of coffee with a rich crema; that settles nicely on the top.
In comparison, with Mr. Coffee Café Barista, the quality of espresso is better and more importantly it stays consistent even after regular use.
Downsides
The Nespresso Machines are not ideal for a large family due to a limited quantity of reservoir. Secondly, if you are in the market for coffee house drinks, then you are restricted by the Inissia and Pixie, as they can only pull a shot of Espresso.
However, if you dig the convince & quality of Nespresso but want a milk based drinks then you can go for Nespresso VertuoLine Coffee Maker with Aeroccino Frother (It is costlier compared Inissia and Pixie)
Freshpresso Rating (Pixes vs. Inissia)
In a nutshell, both the Pixie and Inissia are super convenient to use, brew delicious espressos and you can choose from a host of flavors.
But which one is better, Inissia or Pixie?
Well as far as brewing technology goes they are completely identical.
The major difference is in the design.
If you are a fan of the robust industrial design, then Pixie is the clear winner but if you want a modern theme with vibrant colors the Inissia stands out.  (We prefer the Pixie ;))
And yes, at the time of this review the price difference between the two was negligible.
A middle ground between semi-automatic and super automatic coffee machines, the Café Barista, can help you make cappuccino or lattes at your countertop.
It is a recommended budget option, but how does it perform, overall? We discuss it below.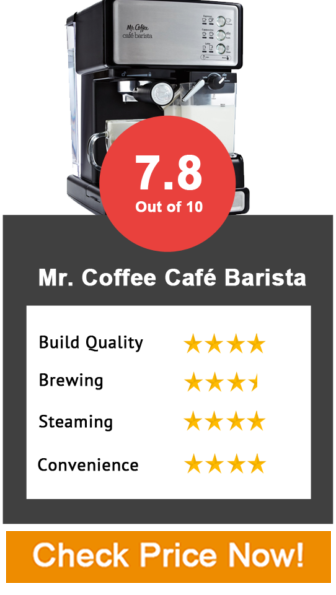 Pros
Automatically froths milk for Cappuccinos and Lattes
One-touch operation makes it super convenient for beginners.
The milk reservoir can be stored in the refrigerator so that you have cold milk for different drinks.
Cons
Brewing temperature is not consistent which sometimes results in bland espressos.
After regular use (after 9-10 months) the machine starts to pour irregular shots.
If you are buying this for that awesome 'morning jolt' then we would stay away from this, but if you like café style drink, then this a good budget option.
Brewing
Mr. Coffee Café Barista doesn't have an integrated grinder, so you have to provide your own ground coffee (Recommendations – Lavazza Crema e Gusto or Tim Hortons Arabica Medium).
However, it is rightly said that for the best espresso, you have to ground fresh beans, so we recommend you to get a coffee grinder. If you don't have one and want to keep things in the budget, then go for KRUPS F203 Coffee Grinder. (Note – this not heavy duty grinder, but if you use it once a day for a cup or two, then it will work just fine.
Once you have your grounds ready, just pick up the portafilter and add your coffee grounds. You have two filters, one for a single shot and the other for the double shot. Then apply pressure on the portafilter using a tamper. (And there is no need to get too crazy about tamping, apply some pressure with your hand inclined, and that is enough)
Fill in the 55 oz. reservoir. (It is removable but since it is located it in the back, taking it out could be inconvenient for some),
Then you simply attach the portafilter with the machine and tap the button adjacent to the type of coffee you want. (Espresso, Cappuccino or Latte)
There are two sizes, small and large, but if you want to change the default quantity you can tap a button and press it for 3 seconds, and it will continue to pour the shot of espresso till you push the button again. It gives the control to the user on the quantity of coffee that is brewed, and you can set it according to your preference.
And finally, the Café Barista has a removable drip, that catches any coffee splashes and can be cleaned easily.
Frothing
Mr. Coffee Café Barista comes with a separate reservoir for frothing milk. It is removable and can be stored in the refrigerator. It easily attaches to the coffee machine, and you can change the amount of frothing, depending upon the type of drink. For Lattes, you should the keep the froth at a minimum, while for cappuccinos you should go all the way.
If you like to experiment, you can leave the knob somewhere in between, and this gives way to different types of drinks.
Again, the kind of froth this will produce can't be compared with expensive models like the Gaggia Brera, but still, it doesn't produce an inconsistent froth like some other models at this price point.
Drawbacks
Café Barista struggles at the performance. The espresso shots are not that great, because of inconsistent brewing temperature, and the taste also varies sometimes (even if use the same ground coffee). It doesn't fair well with light roasted beans and the lacks that delicious flavor.
Again, this would be noticed by the truest coffee lovers, who have a tasted a lot of drinks, but if you are an average coffee drinker, the quality won't be that big an issue, especially with milk based drinks.
Having said that if you like to drink strong espressos, this is not that best choice, as even with a double shot, the coffee tastes light to medium.
Freshpresso Rating
 Mr. Coffee Café Barista is perfect for those on the lookout for a no-hassle espresso machine, at a budget. For the average drinker, this is easily the most convenient way to get milk based coffee drinks, below 200$.
However, if you do care about taste, but still need convenience, we would recommend you to go for Gaggia Brera.
But if budget is an issue, and you only want quality espressos, then go for Nespresso Inissia, which uses pods and has consistent brewing temperature for delicious espressos.
The cheapest in our line of recommendations for the best home espresso coffee machine, DeLonghi EC155 is a best seller when it comes to home espresso machines. Well, it does the most important thing right, that is brew a delicious espresso, but has a list of shortcomings too. Here is everything about DeLonghi EC155 and who should get it.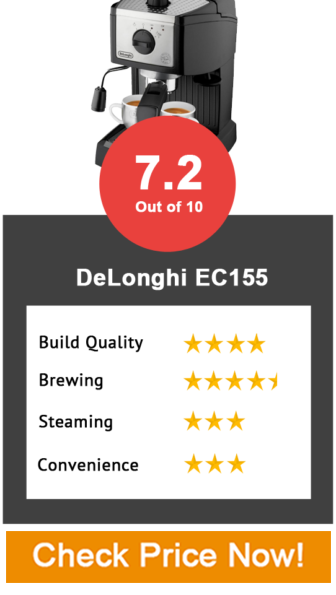 Pros
A great espresso, perfect for those on a bootstrap budget.
A small footprint makes it useful if you are low on countertop space.
Easy to operate.
Powerful heating element and with sturdy construction, this one lasts for 4-5 years.
Cons
An average steam wand leads to inconsistent frothing.
The steaming wand is just 3.25 inches from the countertop, so you are stuck with a small pitcher. (An obvious workaround is placing the machine on a container to increase the height).
A tamper is fixed with the machine, and it is terrible. (Getting an additional metal tamper is a must).
Cleaning is a bit of a hassle.
Brewing and Operation
The DeLonghi EC155 is a basic entry-level semi-automatic espresso machine, so there isn't much you can do regarding control.
You can do three basic things, brew espresso, froth milk or just dispense hot water. To begin, you will need some ground coffee. This works with ESE pods too, but for a better crema, we recommend you to invest in good coffee (like Lavazza Caffe Espresso).
You then load up the grounds in the pressurized porta filter (single or double basket) and go for tamping. The EC155 has a fixed plastic tamper attached to the group head. It looks innovative in theory, but it simply sucks. First of all, you cannot apply the right pressure and secondly it is just inconvenient for a machine this size.
If you are going to buy this, a metal tamper is a must.  Then you simply turn the knob to 'heat'. It takes less than a minute for the machine to heat up and when it is done, the LED below the "OK" text turns green.
There is no fixed volume for the espresso pulled, and you can stop the brewing, whenever you want to. The taste of the coffee will depend a lot on the coffee grounds, but a common theme with the Espresso pulled by EC155 is that it is rich in crema and has a smooth texture. This is perfect if you love the 'jolt' given by espresso.
Overall, if you are in the market for great espresso, the DeLonghi EC155 is easily the best bang for your buck.
Steaming
Due to the small height of this espresso machine, steaming milk is somewhat difficult. We recommend you to either place something beneath the machine to increase the height or just keep the machine on the edge, so you can easily froth a larger mug of milk.
Steaming is pretty straight forward, and the Panarello wand does the most of the work. But the froth is inconsistent, and a lot of bubbles are also produced. It takes some time for it to settle down. If you are making cappuccinos, it is recommended to froth the milk before you brew the espresso.
Drawbacks
Apart from the small height and inconsistent frothing, cleaning the EC155 is also frustrating. Since it doesn't have a solenoid valve, the coffee puck gets quite wet, and you have to rinse it once or twice, to make sure there are no coffee grounds in the basket.
Secondly, you need to descale the EC155 quite often. Even if you use a filter in the reservoir, the small size can lead to faster scaling. Since there is no warning on the machine, asking you to clean, so whenever coffee starts to taste bitter, you need to descale.
Freshpresso Rating
If you don't have a big budget and want a great bang for your buck, then the DeLonghi EC155 is recommended. It consistently pulls great espresso and lasts long (even with daily use). It is also a good option if you a first-time buyer, and want to get hands on an espresso machine.
However, if you want coffee house drinks like Lattes, this isn't the best option. You can go for Mr. Coffee Café Barista, which offers auto-frothing and combines that with a decent espresso shot.